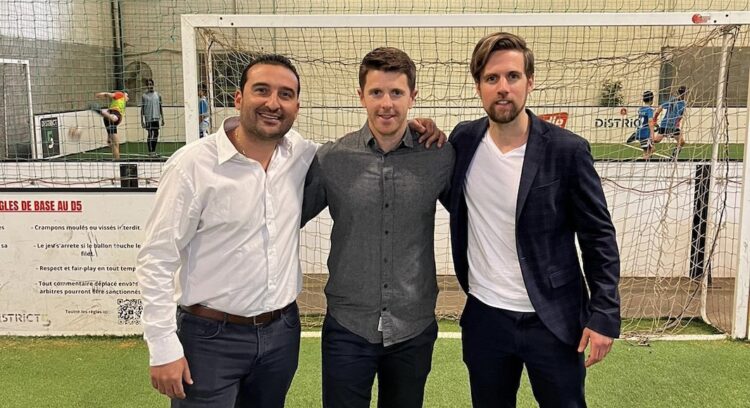 Socceroof extends its empire. After opening three 5-side soccer facilities in New York since 2018, the company founded by the frenchman Jean-David Tartour is exporting itself to Montreal.

"We just acquired two existing facilities, Soccer 5 and District 5. The objective is to keep the staff already present on site, and place them under the Socceroof brand in the Fall" explains tartour, who already founded Le Five, a chain of 5-a-side soccer facilities in France.
Focusing on the local knowledge
The Soccer 5 facility is very well located in the neighborhood of Plateau-Mont-Royal and has two fields, while District 5 offers three field further North in Hochelaga. It is Guillaume Sarrus, the founder of the second facility, who will take over the management of Socceroof's activities in Canada.

"We arrive in Montreal with a lot of humility, with two facilities already working very well and with the knowledge of their market. The objective is to focus on this local knowledge, while bringing the expertise from a bigger group" says Jean-David Tartour.

Socceroof was supported by historical investors to open in Montreal, amongst those was Medef (french employer federation) Geoffroy Roux de Bézieux and former french footballer, who played at Bayern Munich, Bixente Lizarazu. The 5-a-side soccer group has already raised funds to open its first facilities on the brooklyn roofs in 2018, and to then launch two other locations in New York in 2021.

"The operation in Montreal is valued at around 1.6 millions dollars, where we integrate about 15 people" adds Tartour.
Targeting North America's "cold" cities
Jean David Tartour is supported at Socceroof by Jonathan Lupinelli, former player of Bordeaux and Real Sociedad, converted as director of operations of the group.

"The business model in Montreal is quite close from what we have in New York. There is a big part dedicated to the youth, coming with their school, club or to celebrate their birthday. There is also a lot of adult leagues, and an important part of the business is done with food & beverage" details Jonathan Lupinelli.

All Socceroof facilities are equipped with a bar where games are broadcasted, in market with a growing passion for soccer.

"Interest for soccer in North America continues to grow. Between the arrival of Lionel Messi in the MLS, Copa America 2024, World Cup 2026, there are a lot of exciting events coming" says the former footballer.

Socceroof's long term objective is to develop in "cold" cities in North America, where the demand for indoor soccer field is high, especially in the winter.

"We want to develop in Montreal and then extend to Ottawa and Toronto. The overall idea is to have a new fundraising in 2024 to accelerate our development in North America" concludes Lupinelli.


Article from Maxime Aubin for Maudits Français, available in french here.